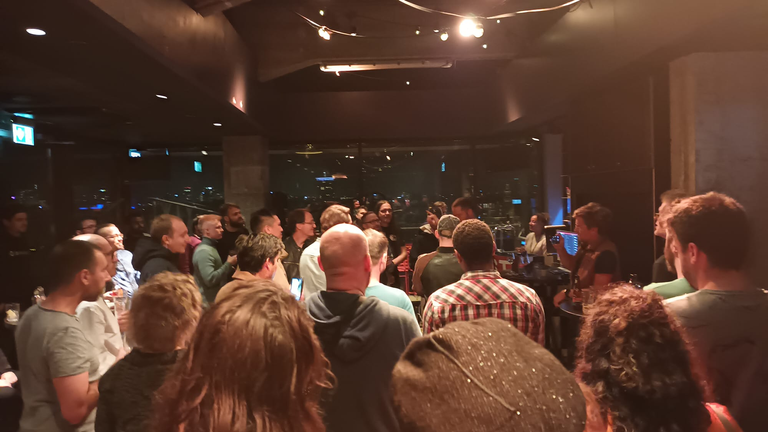 I know its a bit late and there have been a few hundred Hivefest posts so far but as this was my first Hivefest and my first time presenting I felt I needed to say a few words.
...
It sucked, the end.😗
.
.
.
Alrite, it didnt suck. It was actually pretty great. It was my first time in Amsterdam as well and I can say that the city is very close to what I expected. I consider myself slightly conservative, in my own way, and seeing the night life there I felt like I entered a comedy flick.
At the end of the forth day I was completely drained. I ate badly, we drank all evening every evening and I caught COVID on the last day. After recuperation, stepping on the scale this morning, I lost about 6 kilos compared to what I weighed before the trip😅.
THE PRESENTATION:
I did my first presentation this Hivefest. Tried to cover what I should have talked about last year when Hivefest was in VR (marketing) as well as the film. I was a bit nervous since the last presentation I had was in college and my English was quite rusty. In those 4 days I spoke more English than I did in the last 15 years. As a kid living in Utah I was basically American in every way, but over time you simply lose the ability to articulate well, you lose the accent, you have to think about the words before speaking. Interestingly, I actually felt my English getting better over the few days there.
In the end I think it went over well. Its by far the longest presentation of Hivefest but a lot of it was due to the questions. That showed us that there was quite an interest in what we are trying to do with the film. The whole team was quite happy with the response.
Ill link the presentation below.
THE PEOPLE:
Ive been on the chain for almost 5 years now. Time flies fast.
At a point in time ive probably came into contact with everyone and anyone that ever had something to say about any issue, problem, improvement, idea thats in any way related with Hive.
Meeting all those folks in real life, which surprised me a bit, didnt feel strange at all.
Everyone is pretty much completely alike to their onchain "persona".
@archange was a maybe a standout for me since when ever we talked online it was just related to Hive stuff. IRL hes probably the nicest person Ive met in forever.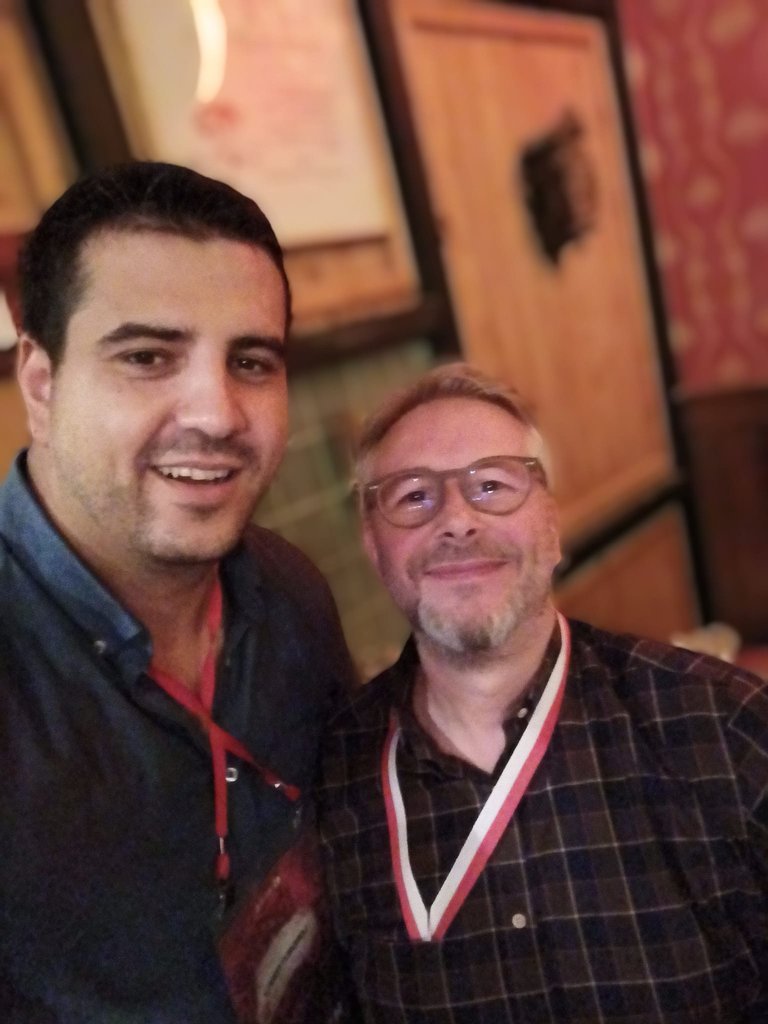 The second night out was pretty insane. @starkerz being the ringleader. Obviously not his first time in Amsterdam. We were crossing this bridge and he was telling us various facts about the city. One was about how there were 5000 bicycle accidents in Amsterdam every year. (No idea if thats true or not. I was focusing on having to pee).
Literally 5 minutes later he tripped over himself and fell into a cyclist that then ran into a mother driving her twin girls in the bike box carrier. The whole street gasped and everyone fell silent for a second.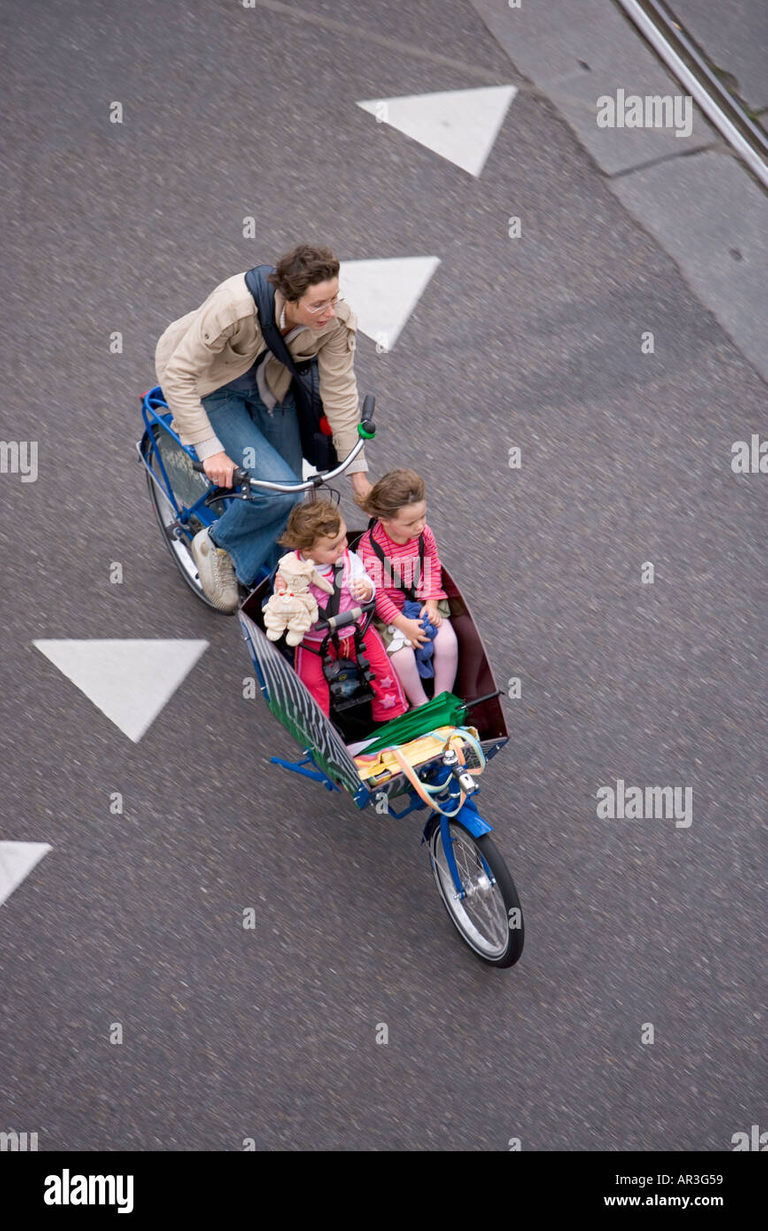 No one was hurt thankfully.
Lucky for him the cyclists blamed each other for some reason. The look on Matts face was priceless though. You know the look. The look of a kid that accidentally stepped on the class hamster and is looking around if someone saw him.
Some of the others to mention. @thejohalfiles, our GPS. @mynewlife who I almost owed a new camera being the clumsy dumbass that I am after a few drinks. @felixxx, @celestal, @awildovasquez, @jeffjagoe, @little.lamb.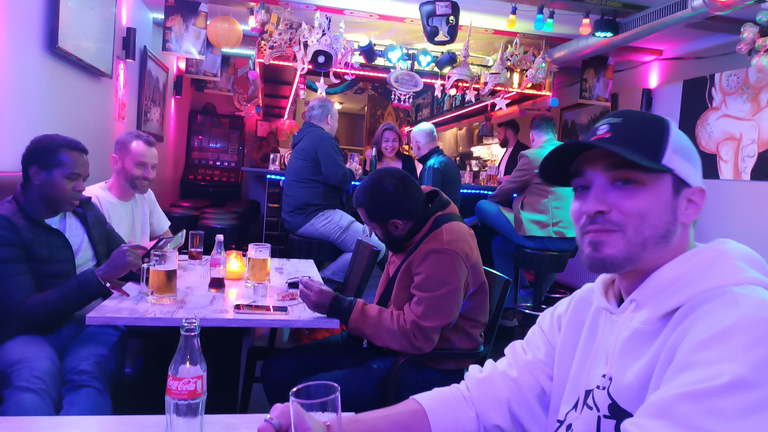 If youre ever in Amsterdam, red light district, go to Thai Street Bar if you want to see some crazy, crazy shit and have some stories you wont soon forget.
NORMAL TIME OF DAY:
The church venue was quite an interesting place to have a presentation. When I told my religious inlaws that we had a blockchain conference in a church and we drank beer in there, they were shocked.😅 I told them there was red wine as well so they calmed down a bit.
It was windy, raining outside, everyone wearing jackets while @blocktrades was rocking sandals, shorts and a T-shirt. Theres a stereotype about Americans being bad at geography. I guess he just thought all of Europe was on the Mediterranean.🤷‍♂
It was nice to meet @ana-maria, one of my Croatian peeps. @delishtreats put me on the spot. But it was really nice talking to her.😉
@slobberchops and @steevc were nice as well and quite British. I assume this is what talking to Michael Caine or any James Bond would feel like.
@crimsonclad is really easy to talk to when you can get a word in.😘
Canadians talk really fast. Theyre like the French of the Americas.
Who else am I missing?
@Jarvie I almost didnt recognize without his cap, @gtg said hi precisely when he meant to, @brianoflondon should have his own show, @rubencress really missed out, @lizanomadsoul is the scariest person to play Poker with, @rollie1212 makes kick ass NFTs...
The Earth isnt flat and neither is Saturn.
If you didnt like my comments, next #Hivefest is in a year, you will probably get over it by then😉.
If I forgot to name drop you, sorry, there were so many people to talk to and I really want to finish this post..
To conclude this. It was really fun and it was worth the COVID for sure. lol
Looking forward to next year. There are already rumors about the country, ill definitely try and make it, but if I dont, maybe the year after I hope I might see you in Croatia maybe.
Croatia, @Roelandp, Du it. 😉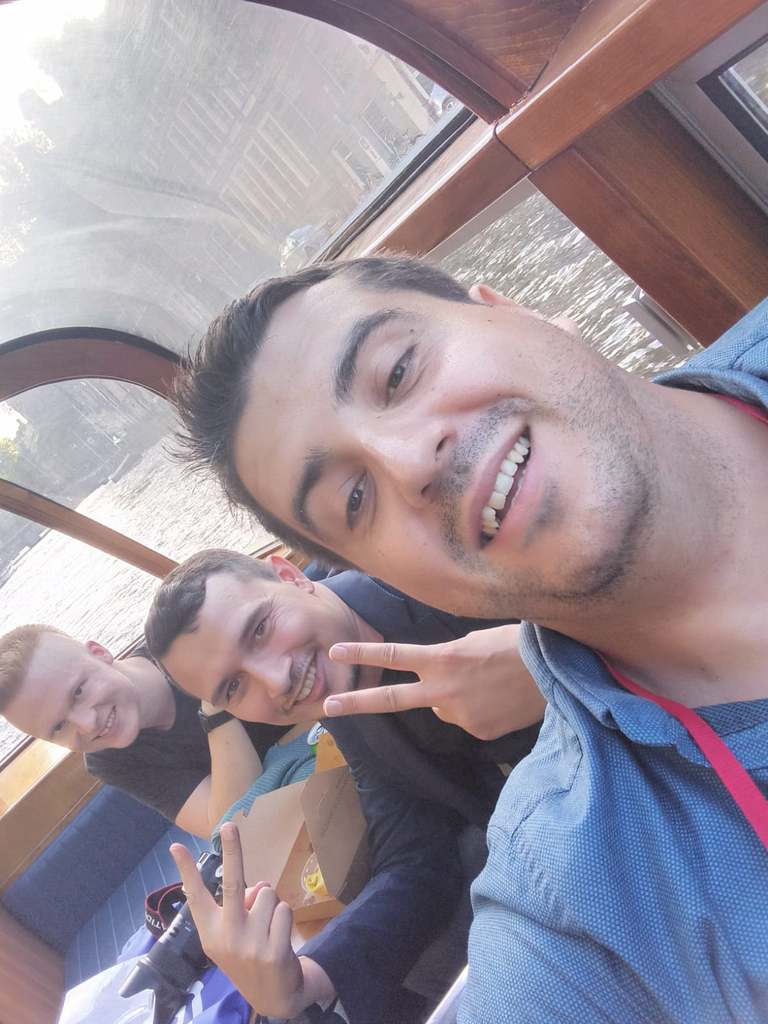 And one more with @celestal and @rubencress.